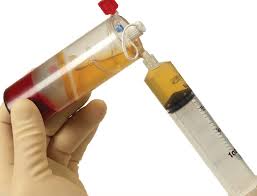 Platelet rich plasma (PRP) consists of plasma sample from one's own blood enriched with autologous platelets
Indications :
Controversially used in Orthopaedics for possible stimulation of bone and soft tissue healing.
Preparation technique :

PRP is created by centrifugation of blood to separate platelet rich plasma layer from a sample of whole blood.

Calcium chloride used to initiate platelet activation in the prepared sample of PRP.
Platelet function

Plays an important role in the inflammatory cascade response after injury.

Growth factors released from platelets include :

PDGF

TGF-B

VEGF

IGF

FGF-2