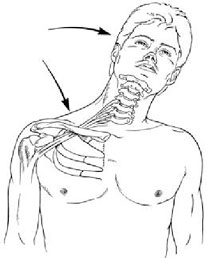 These are the traction injuries that results in a

neuropraxia of the brachial plexus

.
This is mainly due to ipsilateral shoulder depression with lateral neck deviation to the contralateral side.

DEAD ARM Sensation

: Pain that radiates into the shoulder and down the arm into the hand.
Commonly seen in tackling sports like

football players

specially the linemen and players at defensive ends.
There is an associated weakness of

shoulder abduction ( deltoid ) , elbow flexion ( biceps ) and external rotation ( spinati )

X rays and Proper neurological evaluation is required to rule out any fracture / cervical instability.
Ncv/ Emg are required if there is no recovery within 2-3 weks.