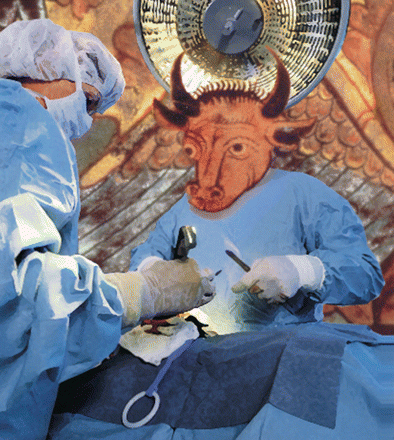 OVERVIEW :
A humorous anaesthetic colleague recently repeated the following popular saying while an operating table was being repaired with a mallet: "typical orthopaedic surgeon—as strong as an ox but half as bright." Making fun of orthopaedic surgeons is a popular pastime in operating theatres throughout the country. This pursuit has recently spread to the internet; a humorous animation entitled "orthopedia vs anesthesia" had received more than half a million hits at the time of writing.Several comparisons of orthopaedic surgeons to primates have been published, and the medical literature contains suggestions that orthopaedic surgery requires brute force and ignorance.
The stereotypical image of the strong but stupid orthopaedic surgeon has not been subject to scientific scrutiny. Previous studies have shown that the average hand size of orthopaedic surgeons is larger than that of general surgeons.However, a search of the worldwide scientific literature found no studies assessing the strength or intelligence of orthopaedic surgeons. In the absence of a cohort of willing oxen as a control group, and given that the phrase is popular with anaesthetists, we designed this study to compare the mean grip strength of the dominant hand and the intelligence test score of orthopaedic surgeons and anaesthetists.
CONCLUSIONS :
The stereotypical image of male orthopaedic surgeons as strong but stupid is unjustified in comparison with their male anaesthetist counterparts. The comedic repertoire of the average anaesthetist needs to be revised in the light of these data. However, we would recommend caution in making fun of orthopaedic surgeons, as unwary anaesthetists may find themselves on the receiving end of a sharp and quick witted retort from their intellectually sharper friends or may be greeted with a crushing handshake at their next encounter.
For the original article : http://www.bmj.com/content/343/bmj.d7506